Europe's energy crunch deepened after China ordered its state-owned companies to secure supplies for this winter. Pipeline auctions also signaled restricted flows from Russia.
Gas and power prices surged to records as the fight for supplies is set to intensify. China's Vice Premier Han Zheng, who supervises the energy sector, told state-owned energy companies to get hold of supplies at all costs, according to people familiar with the matter. The news came just as no extra pipeline capacity was booked to deliver gas to Germany's Mallnow compressor station via a key link to Russia.
A global energy crunch is leaving Europe scrambling for gas and coal, with stockpiles of both commodities depleted after the last winter was colder and longer than usual. Even water is in short supply to produce electricity from hydro power plants, and there are few signs the situation will improve anytime soon as demand continues to roar back from a pandemic-driven lull.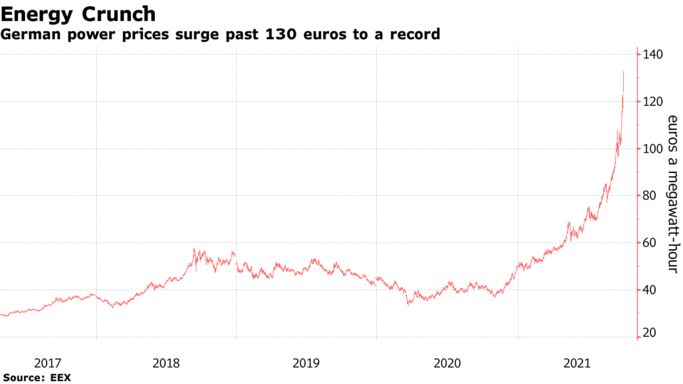 "This is bad news for European governments and consumers who will deal with elevated gas and electricity prices for the rest of the winter," said Leslie Palti-Guzman, president of New York-based consultancy Gas Vista LLC. "It brings security of supply back on the forefront."
Traders were already on edge this morning, with Russian gas flows to Germany's Mallnow falling again. Supplies via the major transit route are about a third less than at the beginning of the week.
To make matters worse, no capacity was booked at an auction to deliver gas to Mallnow for the first day of the month. Traders had been watching day-ahead auctions for Mallnow after only 35% of capacity for October was booked at a monthly auction.
Dutch natural gas for next month, which rolled to November, the European benchmark, rose as much as 14.7% to 99.31 euros ($115) a megawatt-hour. The U.K. contract also surged as much as 19% to a new high of 256 pence a term. Both contracts have more-than-doubled in price over the past month.
German power for next year jumped as much as 13% to 133 euros per megawatt-hour, while the French equivalent gained 10.3% to 135.50 euros per megawatt-hour. Both reached record highs on Thursday.
Haywire
Gas prices went haywire at the end of the day. They first rising on the China news and the lack of pipeline bookings at Thursday's auction, and then fell as Russia forecast higher than previously expected exports for this year, before rebounding to close at record levels.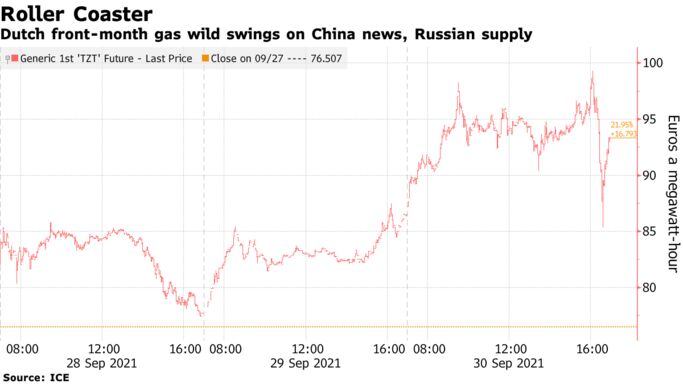 Russia expects Gazprom PJSC's gas supplies to key markets, including Europe, Turkey and China, will grow to 197.3 billion cubic meters this year. That's 10% more than last year and slightly above Gazprom's own conservative outlook for 2021.
Competition with China could boost prices further. Asian spot LNG had already surged to a record $34.47 per million British thermal units on Thursday, beating the previous all-time high in January.
"There is a global competition for gas," said Oystein Kalleklev, chief executive officer at shipowner Flex LNG, in a gas market update on Thursday.
— With assistance by Rachel Morison, Lars Paulsson, Verity Ratcliffe, and Isis Almeida