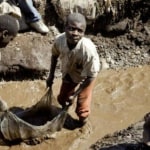 This is Monday, the 23rd, and we are starting a great week. There is lots of stuff going on around the world. When discussing Net Zero in Scotland and worldwide, we must look at the entire supply chain. Buying products that hurt children and devastate lives so we can feel good about ourselves is only one form of the total "Energy Hypocrisy Value Chain."
The Nordstream Pipeline could be repaired, but will it happen politically? In my opinion, no. What do you think?
The Nord Stream Pipeline Could Be Repaired Within A Year
ENB #98 The Clean Energy Crisis by Donn Dears, The challenge of replacing fossil fuels. We talked about a key solution in the EV space.
The Dangerous Fantasy Of Scotland's Net-Zero Energy Transition – Way beyond cutting 14 million trees for wind farms – Child abuse?
The World Economy No Longer Needs Russia – But we are not out of the Energy Crisis for years.
Glencore halts copper mine operations in Peru due to violent protests, worth billions.
Other Sandstone Media Energy Podcasts – Check them out! Sponsorships are available, or get your own produced by Sandstone Media.
David Blackmon LinkedIn
The Crude Truth with Rey Trevino
Rey Trevino LinkedIn
Energy Transition Weekly Conversation
David Blackmon LinkedIn
Irina Slav LinkedIn
Armando Cavanha LinkedIn