Northern Oil and Gas has agreed to acquire certain non-operated natural gas assets in the Appalachian Basin from Reliance Marcellus
Extends Northern's non-operating model to Appalachia – the leading US natural gas basin – and creates a national non-operated franchise, diversified by region and commodity mix
Complements Northern's existing ~183,000 Williston and Permian net acres with ~64,000 net acres in Appalachia
Attractive unadjusted cash purchase price of $175MM, with implied multiples of <$1,500 per flowing Mcfe/d and ~3x 2021E unhedged cash flow from operations
~120 MMcfe/d of current production as of July 2020 effective date and ~493 Bcf of proved reserves (~55% PDP) as of December 31, 2020, with PV-10 of ~$269MM (at strip pricing as of January 20, 2021)
Full calendar year 2021E production of 100 – 110 MMcfe/d (net to Northern) with expected material free cash flow
Expected to be accretive to leverage, free cash flow, return on capital employed and EV/EBITDA; low-decline asset is expected to lower NOG's corporate decline rate and sustaining capital requirement
EQT, the largest and one of the lowest cost natural gas producers in the US, will operate ~95% of the assets after its recent acquisition of Chevron's Appalachian properties
Substantial cost and operational improvements expected from EQT's assumption of operatorship including further G&A reduction, enhanced completions, and well cost reductions
High average, blended working interest of ~27% managed under unique and beneficial joint development agreements that give high degrees of clarity and control to Northern over future development
Inventory of 94 gross highly-economic, work-in-progress ('WIP') wells slated for completion over next five years by EQT. Approx. $50 million of net development capital has already been deployed on the WIP wells, which is not subject to reimbursement by Northern
Northern estimates ~1,200 gross undeveloped locations. EQT has balloted seven undeveloped wells beyond those already in process and Northern expects approximately $25-30 million of net development capital in 2021E
Northern Oil and Gas has entered into a definitive agreement to acquire certain non-operated assets in the Appalachian Basin from the Seller. The Seller is a subsidiary of Reliance Industries.
At the effective date of July 1, 2020, the Assets were producing approx. 120 MMcfe/d of natural gas equivalents, net to Northern's ownership. In 2021E, the Assets are expected to produce approx. 100 – 110 MMcfe/d (or approx. 19,000 Boe/d) net to Northern and consist of approx. 64,000 net acres containing approx. 102.2 net producing wells, approx. 22.6 net wells in process, and approx. 231.1 net undrilled locations in the core of the Marcellus and Utica plays.
The Assets are expected to generate approx. $55-60 million in unhedged cash flow from operations during 2021E with an estimated capital expenditure budget of $25-30 million (net to Northern).
Total consideration to be paid to Seller, net to Northern, consists of $175 million in cash and approx. 3.25 million warrants to purchase shares of Northern's common stock at an exercise price of $14.00 per share. The cash portion of the consideration is subject to typical closing and post-closing adjustments. The transaction has an effective date of July 1, 2020 and is expected to close in April 2021, subject to the satisfaction of customary closing conditions.
The transaction is expected to be funded through a combination of equity and debt financings and is anticipated to be leverage neutral on a trailing basis and leverage accretive on a forward basis.
Northern will begin hedging expected PDP volumes commensurate with the signing of the transaction, including basis differentials, with a target of hedging up to 75% of volumes for approx. three years.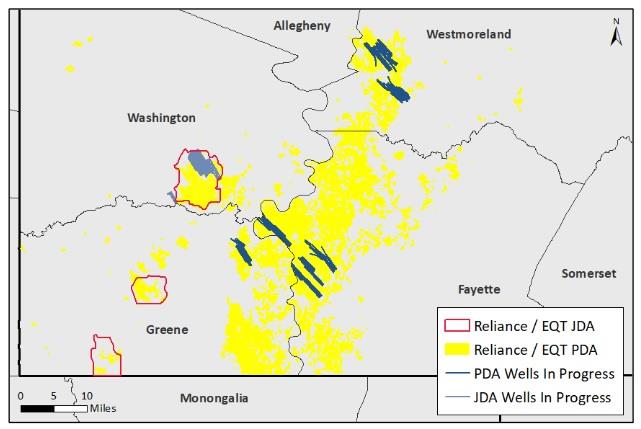 Management Comment
'This transaction furthers our goal of becoming a national non-operated franchise with low leverage, strong free cash flow and a path towards returning capital to shareholders. With this transaction, we expect increased opportunities to efficiently allocate capital and diversify risk, our commodity mix and geographic footprint,' said Nick O'Grady, Northern's Chief Executive Officer. 'Coupled with stable future development, these assets are expected to provide, at current strip prices, an average 18% free cash flow yield on the investment over a multiyear period. With these estimates, Northern is expected to produce increased free cash flow providing opportunities for growth, shareholder returns, and continued deleveraging.'
'Our cash purchase price for these assets only ascribes value for producing wells and the large inventory of wells-in-process, with significant upside value on the undeveloped properties. The joint venture structure allows Northern significant input and clarity on the development plans for these assets on a multiyear basis,' commented Adam Dirlam, Chief Operating Officer of Northern. 'We look forward to being an excellent partner for the development of these properties side by side with EQT for years to come.'
'The acquisition is expected to be funded through a combination of equity and debt financings and is anticipated to be leverage neutral on a trailing basis and leverage accretive on a forward basis. With these transactions, our debt metrics improve immediately on a pro forma basis and we expect them to continue to improve over the coming years,' commented Chad Allen, Chief Financial Officer of Northern. 'Importantly, the contemplated transactions are expected to improve liquidity, remove all near-term maturities and significantly improve free cash flow on a multiyear period.'
See: Marcellus M&A Presentation
Stuart Turley is President and CEO of Sandstone Group, a top energy data, and finance consultancy working with companies all throughout the energy value chain. Sandstone helps both small and large-cap energy companies to develop customized applications and manage data workflows/integration throughout the entire business. With experience in implementing enterprise networks, supercomputers, and cellular tower solutions, Sandstone has become a trusted source and advisor in this space. Stuart has led the "Total Corporate Digital Integration" platform at Sandstone and works with Sandstone clients to help integrate all aspects of modern digital business. He is also the Executive Publisher of www.energynewsbeat.com, the best source for 24/7 energy news coverage and is the Co-Host of the energy news video and Podcast Energy News Beat.
Stuart is on Board Member of ASN Productions, DI Communities
Stuart is guided by over 30 years of business management experience, having successfully built and help sell multiple small and medium businesses while consulting for numerous Fortune 500 companies. He holds a B.A in Business Administration from Oklahoma State and an MBA from Oklahoma City University.