Oil at $100 a barrel was considered inevitable not too long ago, as Wall Street strategists predicted a commodities supercycle. And it still remains in play, even with the omicron variant raging and Covid cases rising.
Goldman Sachs said $100 oil is a possibility in 2023 thanks to record demand. The firm believes omicron fears are overdone as governments combat the new variant with more testing than lockdowns. Today's Chart of the Day looks at Brent crude in 2023 dollar terms, taking into account the street forecasts of inflation and its effect on the greenback. The result? It turns out oil was nearing that threshold anyway. As recently as October it was a mere $7.04 away from hitting $100 in 2023 dollar terms.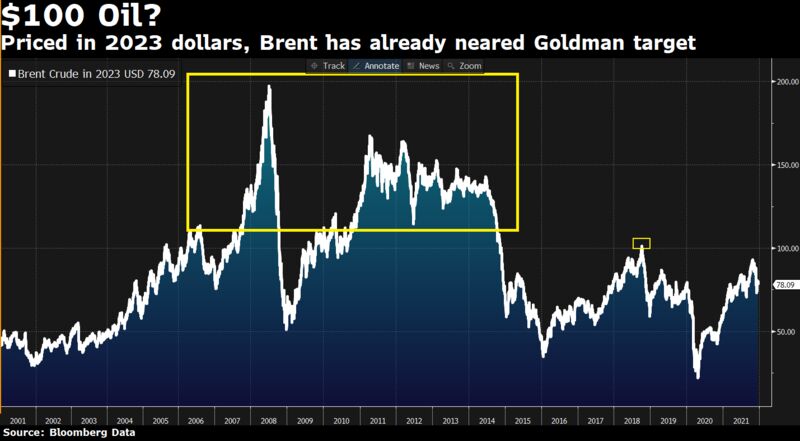 The market saw this just a few years ago. In 2011, Brent climbed as high as $126 per barrel and stayed above $100 for the next three years as the Arab Spring cascaded through Northern Africa, impacting oil-producing nations like Libya, an OPEC+ member. Demand slowed in 2014 as China's domestic growth decelerated and the U.S. shale boom quickly added supply. The result was a more than 70% decline in oil prices that lasted until 2016, when the market found a new equilibrium. Two years of global growth followed, until the trade war between the U.S. and China began in the summer of 2018.
Stuart Turley is President and CEO of Sandstone Group, a top energy data, and finance consultancy working with companies all throughout the energy value chain. Sandstone helps both small and large-cap energy companies to develop customized applications and manage data workflows/integration throughout the entire business. With experience in implementing enterprise networks, supercomputers, and cellular tower solutions, Sandstone has become a trusted source and advisor in this space. Stuart has led the "Total Corporate Digital Integration" platform at Sandstone and works with Sandstone clients to help integrate all aspects of modern digital business. He is also the Executive Publisher of www.energynewsbeat.com, the best source for 24/7 energy news coverage and is the Co-Host of the energy news video and Podcast Energy News Beat.
Stuart is on Board Member of ASN Productions, DI Communities
Stuart is guided by over 30 years of business management experience, having successfully built and help sell multiple small and medium businesses while consulting for numerous Fortune 500 companies. He holds a B.A in Business Administration from Oklahoma State and an MBA from Oklahoma City University.