Stocks fell in Asia on Friday as the dollar held a surge that underscores concerns about a global economic slowdown as monetary policy tightens to tackle inflation.
MSCI Inc.'s Asian share gauge dropped for a second day, including a more than 1% drop in commodity-exporter Australia amid lower raw material prices.
S&P 500 and Nasdaq 100 futures edged up after Wall Street shares closed off lows as expectations of a 100 basis-point US interest-rate hike in July receded.
Treasuries inched higher and two-year yields remained above than the 10-year rate. The inversion is viewed as recession signal but has tempered a little.
The Bloomberg Dollar Spot Index hovered at a record high. The euro stabilized after being buffeted by a political crisis in Italy.
Growth fears are putting pressure on commodities ranging from metals to crude oil, which remains around $96 a barrel.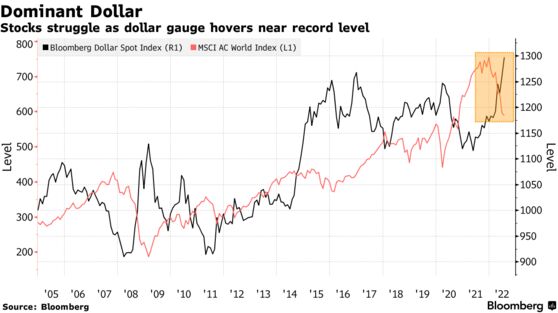 Greenback strength is "largely a flight to safety," Steve Englander, head of global G10 FX research at Standard Chartered Bank, said on Bloomberg TV. "The problem is until we get to see some light at the end of the tunnel with respect to either inflation coming off or oil prices coming off because of supply creation rather than demand destruction, it's hard to call a top to it."
In the latest Fed comments, Governor Christopher Waller backed raising rates by 75 basis points this month, though he said he could go bigger if warranted by the data. St. Louis Fed President James Bullard echoed some of those comments, saying he favored hiking by the same amount.
Investors are awaiting economic data from China to assess how its economy is faring amid challenges from a property sector slowdown and Covid lockdowns.
In a first flurry of US bank earnings, JPMorgan Chase & Co. temporarily halted buybacks as earnings fell short of estimates, and Morgan Stanley announced a plunge in investment-banking revenues. But the chiefs of both banks said they aren't steering their firms toward shelter even as they see global events denting the economy.
Meanwhile about $1.9 trillion of options are set to expire Friday, a even that could bring some volatility to markets.
Stuart Turley is President and CEO of Sandstone Group, a top energy data, and finance consultancy working with companies all throughout the energy value chain. Sandstone helps both small and large-cap energy companies to develop customized applications and manage data workflows/integration throughout the entire business. With experience in implementing enterprise networks, supercomputers, and cellular tower solutions, Sandstone has become a trusted source and advisor in this space. Stuart has led the "Total Corporate Digital Integration" platform at Sandstone and works with Sandstone clients to help integrate all aspects of modern digital business. He is also the Executive Publisher of www.energynewsbeat.com, the best source for 24/7 energy news coverage and is the Co-Host of the energy news video and Podcast Energy News Beat.
Stuart is on Board Member of ASN Productions, DI Communities
Stuart is guided by over 30 years of business management experience, having successfully built and help sell multiple small and medium businesses while consulting for numerous Fortune 500 companies. He holds a B.A in Business Administration from Oklahoma State and an MBA from Oklahoma City University.