The tensions between the providers of fossil fuel and renewable energy are increasing.  And the president has not helped.
Since taking office, President Biden has bent over backwards to accommodate the aggressive agenda set by climate activists and environmental lobbyists. In so doing he has punished or pushed aside the very industries that have helped to make America great — oil, coal and natural gas. Through pernicious regulations and plain old bully-pulpit pessimism, the President wants to move fossil fuels to the margins of our economy. He seems perfectly willing to trade reliable energy from oil and gas for less reliable renewables, despite the incapacity of renewals to fully deliver for decades.
When Rep. Alexandria Ocasio-Cortez, D-N.Y., introduced her Green New Deal resolution in 2019 it was considered a distant dream. Critics and the media were bemused that America would embrace such a vision but AOC's goal was to rid the world of fossil fuels, forcing the federal government to set aside billions of dollars for the energy transition, to create millions of jobs in the energy sector, and to subsidize new technologies to replace oil and gas.
But today, AOC may have the last laugh. Last summer, President Biden signed the Inflation Reduction Act (IRA) into law. As the largest piece of federal legislation to address climate change, the IRA incorporates many of the key elements of the Green New Deal. AOC's once far-fetched dream has become a present day reality, a mere three years later.
According to the Congressional Budget Office, the IRA will invest $391 billion in provisions relating to climate change. This includes $270 billion in tax incentives, and $27 billion for a green bank created by amending the Clean Air Act.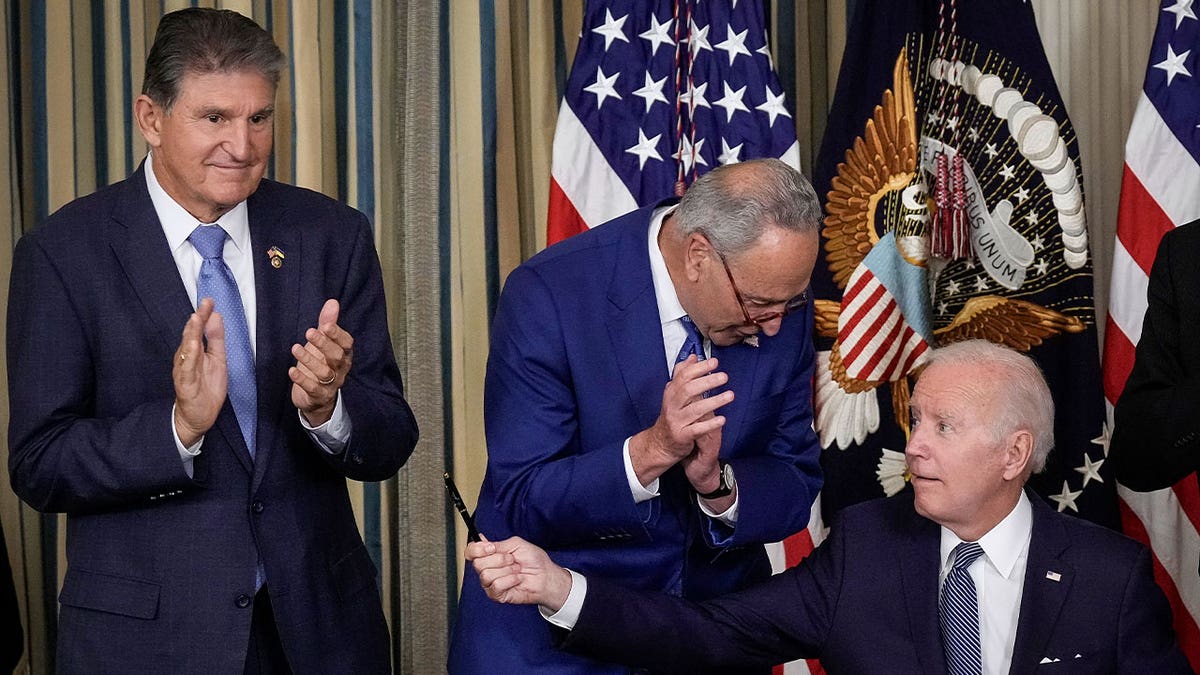 But reputable private sector sources say the costs will be even greater. A report by Credit Suisse projects that total climate spending in the bill would be $800 billion, and Goldman Sachs predicts a total of $1.2 trillion.
The largest funding commitments are: $128 billion for renewable energy and grid energy storage, $13 billion for electric vehicle incentives, $14 billion for home energy efficiency upgrades, $22 billion for home energy supply improvements, and $37 billion for advanced manufacturing.
By any measure these are staggering numbers. If they are even remotely accurate, it's clear that Biden has bought into the green movement, lock, stock and barrel and is poised to mortgage our future to the renewable energy lobby. All the while ignoring the fact that fossil fuels still power America – and indeed the world – for the foreseeable future, and provide the most secure, reliable means of energy available.
On the other side of the ledger, the IRA includes tax incentives and grants for oil and gas, mostly to spur progress in carbon capture and storage (CCS) development. To be sure, these incentives have already made an impact on investment and jobs in both Red and Blue states.
While there are several redeeming provisions for oil and gas, Biden's great green giveaway is, ironically, unsustainable in the long term. The burdens of new, more restrictive regulations on oil and natural gas may outweigh whatever benefits the law extends to the fossil fuel industry. For example, recent requirements by the Environmental Protection Agency for electric energy producers threaten to disrupt the electrical grid.
Just in time for the busiest season of the year.
And it is this disparity that House Republicans are attempting to rectify in the debt limit negotiations, albeit clumsily.  Speaker McCarthy has vowed to balance the ledger between renewable subsidies on the one hand and fossil fuel incentives on the other, but has yet to make a rational case within the narrow parameters of debt limit discussions.
The Speaker, however, can rely on conventional wisdom and compelling data to make the case.  Despite the growing share of renewable energy sources, oil and gas continue to play a vital role in meeting the world's energy needs. According to the International Energy Agency (IEA), oil and gas accounted for nearly 60% f the global energy consumption in 2020. While renewable energy sources are growing rapidly, they still cannot fully replace the energy provided by oil and gas in the short to medium term.
These industries have been the backbone of the global economy for over a century, providing energy, transportation and so much more. They generate millions of jobs, both directly and indirectly, and contribute significantly to global GDP. Many countries, particularly those with vast hydrocarbon reserves, depend on oil and gas revenues to fund their national budgets and maintain social welfare programs
Reducing federal support for the oil and gas industries, even modestly, is not only myopic but also minacious for America's national security interests. While the U.S. is poised to wean itself from oil and gas production and exploration, China, Russia and others are doing nothing of the sort.
Developing countries, in particular, continue to rely heavily on fossil fuels to meet increasing energy demands and spur economic growth. At a time when China and Russia are increasing oil and gas production, can we afford to cede our influence with allies and dependents?
We need look no further than the brutal war in Ukraine, where, according to the BBC, "The world is witnessing a 'gold rush' for new fossil fuel projects, according to a new report by leading climate change researchers. Soaring energy prices spurred by Russia's invasion of Ukraine have led to new investment in oil and gas."
Our energy ecosystem is too complex and consequential to be dominated by a single set of technologies, no matter how interesting, innovative or investment-worthy they may be. Nor can our policy decisions become captive to a single sector or industry.
America's energy needs are as diverse as the technologies in the market. We need all of them – fossil fuels, nuclear, geothermal, renewables and more – to meet the growing demands of the coming decades.
It is one thing to embrace the principles of the Green New Deal in minor part. It is another thing to allow the AOC wing of the Democratic Party to drive American energy policy for the foreseeable future, especially at the expense of a valuable industrial sector.
The energy transition is both compelling and challenging. Policymakers must balance a number of competing interests both foreign and domestic and come up with commonsense solutions. Sustainability is important, but not at the expense of stability and security.
The president should not subsidize renewable sources and give short shrift to consistently reliable energy choices. Our future success requires prudent and pragmatic energy solutions, not progressive slogans of vacuous value.
ENB Top News
ENB
Energy Dashboard
ENB Podcast
ENB Substack