The global spike in energy prices and China's crackdown on power consumption look set to create more losers than winners in Asian equities as production costs surge and output takes a hit.
Chinese stocks dominate the watch lists of traders, given that the country is the world's biggest consumer of electricity and largest exporter of goods. Factories churning out everything from toys to vital components for Apple Inc. and Tesla Inc. have been caught in the fallout.
The region's coal and natural gas producers will benefit in the short term from higher prices while their green-energy rivals should gain in the longer run. Energy-intensive sectors that make metals and chemicals may have the most to lose.
Rising demand for hydrocarbon as economies recover from the pandemic coupled with lower supplies globally created the shortage. China's increasingly aggressive push to curb emissions is amplifying the immediate impact on businesses.
More than half of China's mainland provinces are limiting electricity use, forcing factory shutdowns that are reverberating through global supply chains.
Likely winners include Australia's Woodside Petroleum, Malaysia's Petronas Gas Bhd., Japan's Inpex Corp., India's Oil and Natural Gas Corp. and Reliance Industries Ltd. On the other hand, gas distributors such as China Gas Holdings Ltd., Hong Kong and China Gas Co. and Kunlun Energy Co may face pressure.
Costs are poised to climb for Indian gas importers like Petronet LNG Ltd. and city gas distributors, which use natural gas as feedstock, such as Indraprastha Gas Ltd.
"The risk is that we are going to see a margin squeeze as we come into the winter" for gas distributors, Neil Beveridge, senior energy analyst at Sanford C. Bernstein said in an interview with Bloomberg Television. Gas distributors may not be able to pass through the rising prices as they are regulated by China, he added.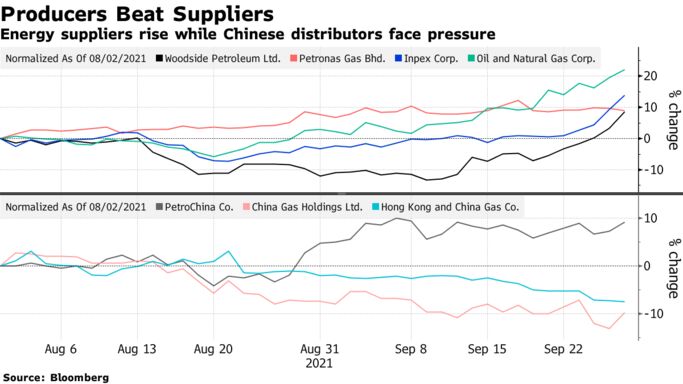 Coal and Power
Coal miners may mint more amid high prices for their commodity. Stocks to watch include Indonesia's Adaro Energy Tbk, Australia's Whitehaven Coal Ltd. and Coal India Ltd. Chinese names include China Shenhua Energy Co., China Coal Energy Co. and Shanxi Coking Coal Energy Group Co.
Stocks of coal-based power generators such as China's Huadian Power International Corp., Huaneng Power International Inc. and Datang International Power Generation Co. suffered steep losses Monday that were only partially recovered Tuesday.
A Freezing Winter Could Make China's Power Crisis Much Worse
Independent coal-fired power producers in China are likely to report net losses in the third quarter on higher costs, Citigroup Inc. analysts Pierre Lau and Lesley Li wrote in a Sept. 26 note. They added that companies will be unable to pass on the complete impact of surging coal prices to consumers.
Stocks of power producers and users declined on Wednesday even as people familiar with the matter said the Chinese government was considering raising power prices for industrial consumers. The CSI 300 Utilities Index dropped as much as 2.8%. the most since July 16.
Electricity Users
Surging electricity prices threaten to hurt shares of intensive power users, with stocks to watch including Aluminum Corporation of China Ltd., Baoshan Iron & Steel Co., Angang Steel Co., China National Chemical Engineering Co. and Zhejiang Longsheng Group Co.
As power cuts in China curb industrial output, this flows on into lower shipping demand, affecting stocks like Cosco Shipping Holdings Co., according to analysts.